Higher Education - Money
What you have to pay:
• Tuition fees - up to £9,000 a year for full-time courses and £6,750 for part-time courses in England, Scotland and Wales, but not charged until you've left the course and started work (however, this might change, we will update with any changes).
• Living expenses - housing, food, heating, books etc.
What you can claim:
• Tuition fee loan - so you don't have to pay fess until after the course.
• Maintenance loan - the amount depends on where you live and study and on household income.
Maintenance Loans
• £5,500 if you live away from home and study at a university or college outside London.
• £7,675 if you live away from home and study at a university or college in London.
• £4,375 if you live at home.
Maintenance Grants/Special Support Grants
• Up to £3,250 a year and doesn't have to be repaid.
• You can claim it if your household income is £42,600 or below.
• If you're on a means tested benefit (e.g. Income Support) you may get the special support grant instead.
Bursaries
• Don't have to be repaid.
• Paid to students who get full maintenance/special support grant and who also pay full tuition fess; sometimes paid to other students too.
• Must be at least £329 to cover any shortfall between tuition fee and maintenance/special support grant - often more than this.
Repayments
• Start once you earn more than £21,000 a year.
• You repay 9% of any income over £21,000. e.g. if you earn £25,000 a year, you pay nine per cent of £4,000, which is £6.92 a week.
• You pay interest - broadly in line with what you borrow.
• Any outstanding balances (except arrears) are written off after 30 years
If you have any problems on your course, universities and college have Access to Learning Funds. Student unions also give advice and information.
Extra Help
• You may get extra help e.g. if you have children, adult dependents or a disability.
• For details use
DirectGov
,
Skill
or ring 0800 328 50 50.
How To Apply For Financial Support
• Apply through Student Finance England at
DirectGov
.
• Apply early - as soon as you've chosen your universities/colleges.
• Helpline: 0845 300 50 90
Studying Part Time
• The tuition fee varies for part time study.
• For information on the Open University, check their
website
.
Nursing and Health Care Professions
• The NHS pay tuition fees for courses that prepare for nursing and certain health care professions. They also pay bursaries, which don't have to be paid.
• For more details, use
NHS Student Grants
or ring 0845 358 6655.
Social Work
You may get an NHS bursary, check
NHS Student Grants
Post Graduate Teacher Training
There may be bursaries or school based training routes that pay a wage; use
TDA
. Funding for Degree level training (e.g. B.Ed) is the same as for any degree.
Dance or Drama
For help with training at certain drama schools, use
DirectGov
Charitable Trusts
Some charitable trusts will help students.
Scholarships
For information use
Scholarship Search
.
This information could change, check
DirectGov
.
Earning and Learning
Sponsorships
• A sponsorship means that a company gives you financial help while you study - some organisations will pay you to go to university or college.
• Most sponsorships are for work related subjects such as Engineering, Construction, Business or Finance. Some professional bodies offer then too (e.g. for Physics). But, if you're planning to study Humanities, Arts or Social Sciences, you're far less likely to find a sponsorship.
• Any company that sponsors you will want something in return so always check the conditions. For example, they would probably expect you to work for them after you graduate and often before the course starts and during holidays too. Check too whether your earnings will be taxed.
• Sponsorships are competitive finding one takes time and effort and you will need to apply early. Some employers only offer sponsorship from the second year of study or beyond. So, if you don't find one at first, keep looking.
Sandwich Course
• This involves working for a company as part of your course, often for a third year.
• The arrangements vary but you are often paid for this (you normally pay a reduced tuition fee for that year).
• Sandwich courses are mainly in work related subjects.
• They tend to last a year longer than other courses but they can really help you to land that first job after university.
To find out which companies offer sponsorships, check out these websites and books:
Everything You Wanted To Know
UK Sponsorship
Everything You Wanted to Know About Sponsorship, Placements and Graduate Opportunities
Foundation Degree
If you get a job instead of going straight to university it might lead to taking a Foundation Degree while you work. Look at
Find Foundation Degree
Part Time Job
Lots of students work part time and student unions often advertise vacancies. Not only would a part time job bring in some cash, it could also make your CV look better.
BUT be careful not to put too many hours into a part time job. If your studies suffer you could finish up with a lower Degree. This could damage your career prospects - and your salary.
Student Budget Planner
Try copying this table out onto some paper (or print it out) - it could help you to budget for university or college life...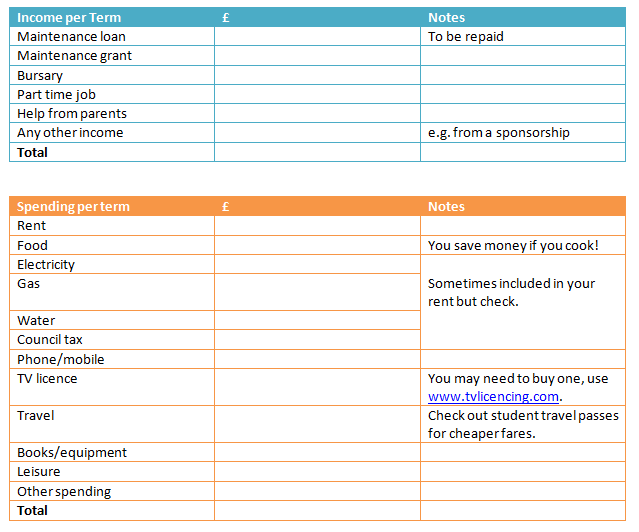 For electronic budget calculators try:
UCAS
.
Scholarship Search
(follow links to Students/Student Finance/ Budget Calculator).
Don't forget!
• You will have to repay tuition fees too - but not until after your course ends.
• If you run into money problems, ask for help; student unions often give advice.